Ingredients:

2 scoops NutraStart Vanilla

2 tbsp chia seed

1 tsp baking soda

1 ripe banana

1 egg

6 tbsp rolled oats

100 ml milk

2 tbsp dried fruits (cranberries & raisins)

A handful of mixed nuts (walnuts, almonds & cashew nuts)
Directions:

Preheat oven at 180⁰C for 10 minutes.

Line the 6-inch cake pan with baking paper.

Peel and mash banana in a bowl.

Add egg and milk, mix well.

Add NutraStart Vanilla, rolled oats, baking soda and chia seeds. Mix until smooth.

Pour mixture into the cake pan, top with mixed nuts and dried fruits.

Bake at 180⁰C for 35-40 minutes.

Remove cake from oven and allow to cool before slicing.

Serve in thick slices and enjoy!
NutraStart®, a nutrient dense formula with 22 types of essential nutrients including soy and whey protein blend, dietary fiber, 4Life Transfer Factor, vitamins and minerals to support your daily nutritional needs.
---
Kek Buah dan Kekacang NutraStart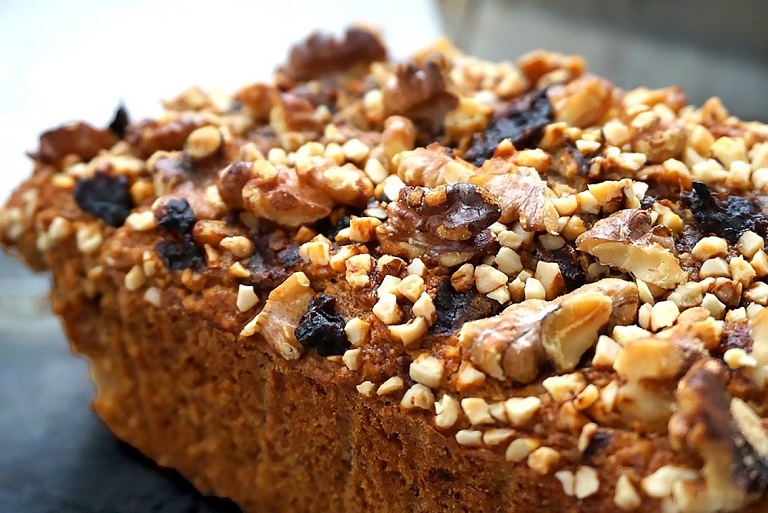 Bahan-bahan:

2 scup NutraStart Vanila

2 sudu besar benih chia

1 sudu teh serbuk penaik

1 pisang yang masak

1 telur

6 sudu besar rolled oat

100 ml susu

2 sudu besar buah kering (kranberi dan kismis)

Satu genggam kekacang campuran (walnut, badam dan kacang gajus)
Arahan:

Panaskan ketuhar pada suhu 180⁰C selama 10 minit.

Alas acuan kek bersaiz 6-inci dengan kertas pembakar.

Kupas pisang dan lenyek di dalam mangkuk.

Masukkan telur dan susu, gaul sehingga campuran sebati.

Tambahkan NutraStart Vanila, rolled oat, serbuk penaik dan benih chia. Gaul sehingga tiada ketulan.

Tuang aduan ke dalam acuan kek, hias dengan kekacang campuran dan buah kering.

Bakar pada suhu 180⁰C selama 35-40 minit.

Keluarkan kek dari ketuhar dan biarkan ia sejuk sebelum potong.

Hidang dalam kepingan yang tebal dan nikmatilah!
NutraStart® merupakan formula padat dengan 22 jenis nutrien penting termasuk campuran protein dari soya dan wei dan juga serat, 4Life Transfer Factor, vitamin dan mineral untuk menyokong keperluan nutrisi harian anda.