Ingredients:
(Makes 3 medium size pancakes)
3/4 cup egg white

2 scoops NutraStart Vanilla / Chocolate

1 teaspoon olive oil

Dash of cinnamon (optional)

Toppings (optional) - sliced banana and oat muesli drizzled with honey
Directions:

In a bowl, combine egg white, NutraStart powder and cinnamon. Whisk to smooth batter.

Heat one teaspoon olive oil in a non-stick pan at medium high heat.

Pour batter into pan. Cook pancakes for 1 minute on each side until golden.

Serve with toppings.
NutraStart™ is a great tasting beverage for everyone to enjoy. It contains soy and whey protein as well as dietary fiber, 4Life Transfer Factor and 22 vitamins and minerals to provide nutritional support.
---
Pancake Sarapan Pagi NutraStart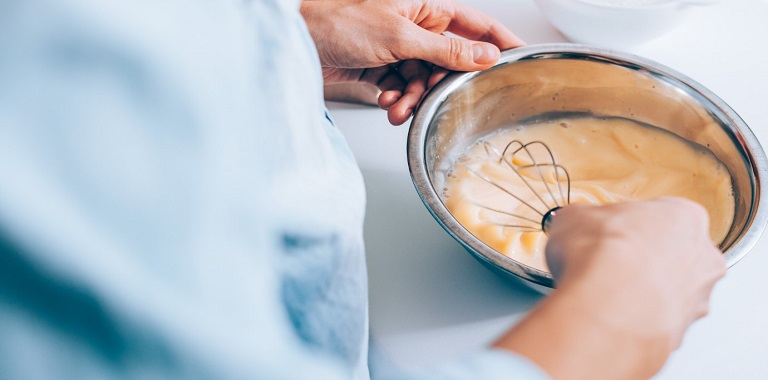 Bahan-bahan:
(Untuk tiga pancake bersaiz sederhana)
3/4 cawan putih telur

2 sudu NutraStart Vanila / Choklat

1 sudu teh minyak zaitun

Serbuk kayu manis (pilihan)

Hiasan (pilihan) – Hirisan pisand dan oat muesli dicampur dengan madu
Arahan:

Di dalam mangkuk, campurkan putih telur, serbuk NutraStart dan kayu manis. Pukul adunan sehingga sebati.

Panaskan satu sudu teh minyak zaitun dalam kuali tidak melekat pada kepanasan sederhana. Tuangkan adunan ke dalam kuali. Masak pancake selama satu minit pada setiap bahagian sehingga keemasan.

Hidangkan dengan hiasan.
NutraStart™ adalah minuman yang berkhasiat untuk dinikmati semua. Ia mengandungi protein dari wei dan soya serta serat makanan, 4Life Transfer Factor dan 22 vitamin dan mineral untuk memberi sokongan nutrisi kepada badan.