View in
BM
"A 6-in-1 wellness product that supports body wellness and skin rejuvenation by improving the hallmarks of aging such as skin firmness and wrinkles".
4Life Transfer Factor Collagen has transfer factor bioactive peptides that boost overall body wellness and hydrolyzed marine collagen to support healthy skin.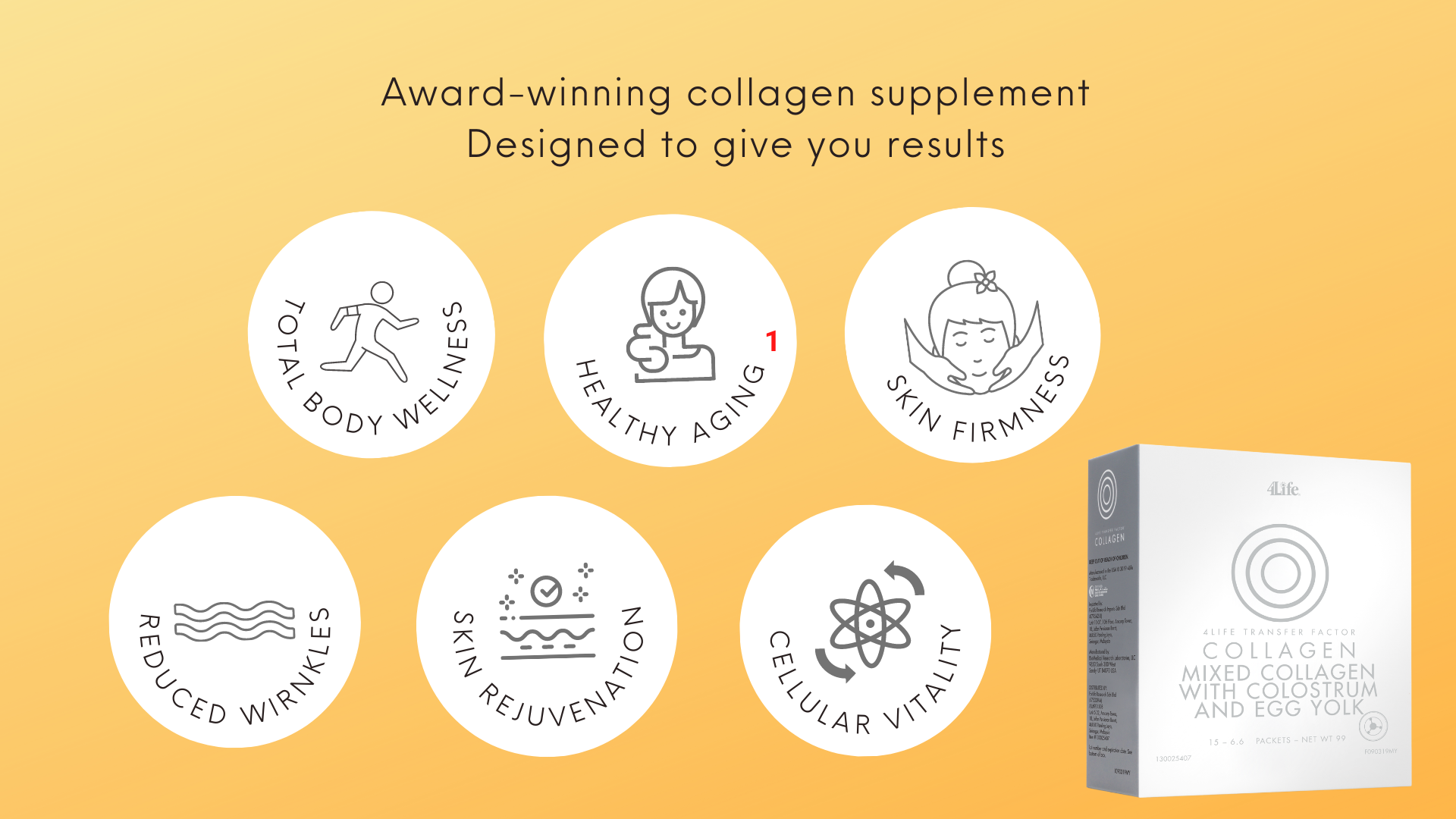 1 Healthy aging - An independent report conducted by the BioSRQ laboratory at the Roskamp Institute demonstrates over a 200% increase in telomerase activity for the product compared to cells with no treatment.
---
THE SCIENCE BEHIND
4Life Transfer Factor

Bioactive peptides that support the immune system. Your body defense declines as you age, which can mean slower recognition and responses to health threats. Transfer factors are small bioactive peptides and proteins from bovine colostrum and chicken egg yolk, which provide powerful health benefits by supporting the immune system. The research on transfer factors span over 75 years, with colostrum-based research starting in the 1980s.

4Life is continuing that research to the present day and we've only scratched the surface on what these bioactive peptides can do.
---
Hydrolyzed Marine Collagen

To support healthy skin. Collagen which makes up the majority of your body's proteins also tends to break down starting in the late 20's. 4Life Transfer Factor Collagen can boost declining defense and improve the visual hallmarks of aging by restoring collagen levels within the body. This product also provides antioxidant support with Vitamins C and E.

The marine collagen is supported by multiple clinical studies that demonstrate improvement in skin elasticity, fine lines and wrinkles, and even skin radiance, which is a key differentiating feature that is of the utmost importance in Asia.
---
Easily digested and absorbed

It has high bioavailability as the transfer factors are small bioactive peptides and protein in powder form. This ensures optimal digestion and absorption in the intestine, where over 70% of your immune system cells reside. With such effective digestion and absorption, your body can immediately act on these ingredients.

The marine collagen is hydrolyzed into small molecules around 2,000 Daltons, which makes them highly digestible and easily absorbed and distributed in the human body.
---
The Immune System Company™

At 4Life®, we recognize the importance of a strong immune system that includes your largest organ, the skin. Your skin acts as a first line of defense against potential health threats, which means your skin can fall prey to the negative effects of an over-active or underactive immune system. That's why transfer factors are so important. Transfer factors are derived from bovine colostrum and chicken egg yolk and can support your immune system cells to function better.
---
WHAT'S INSIDE?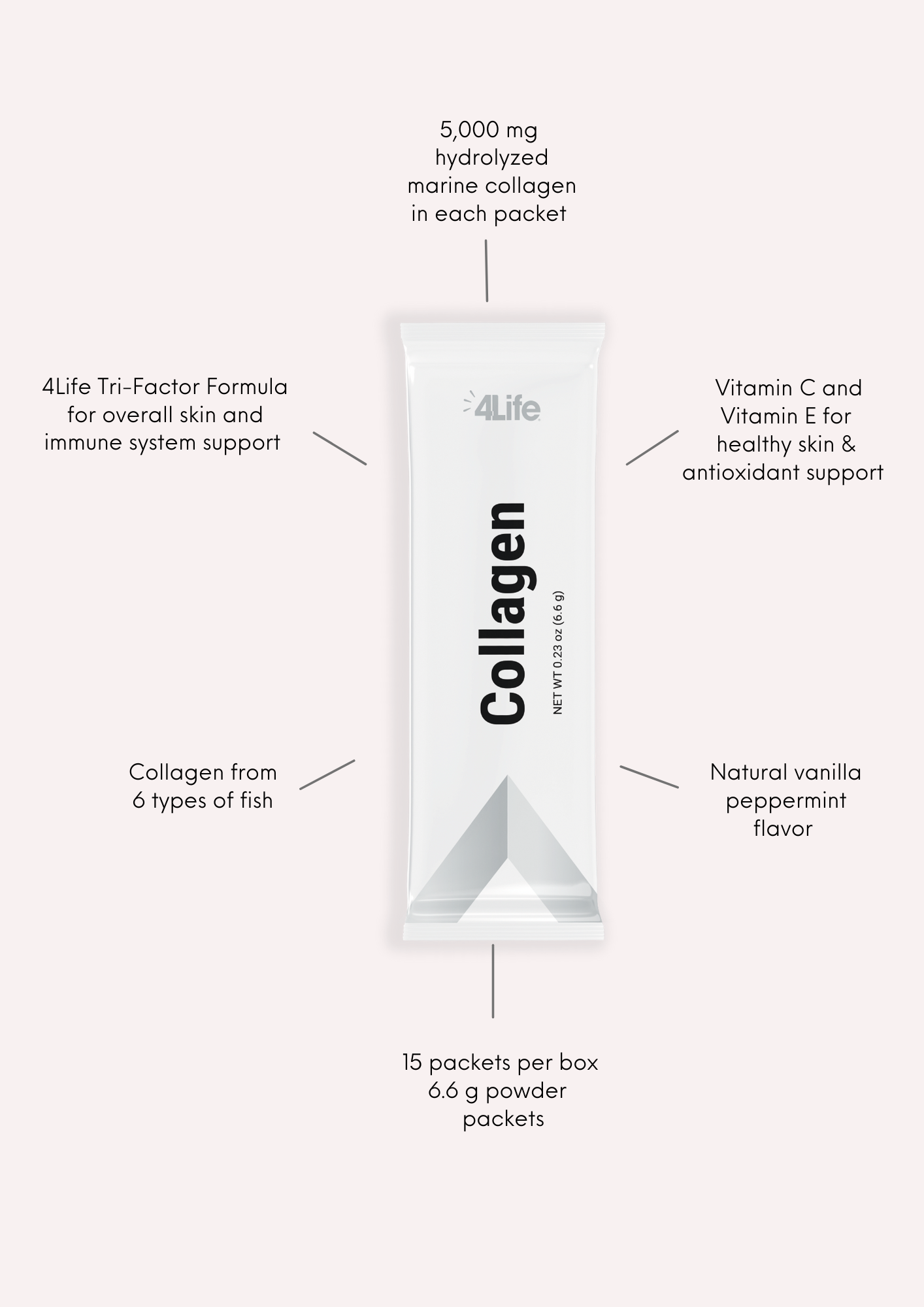 4Life Transfer Factor Collagen is in powder form and comes in single serving packets. Its mild vanilla peppermint flavor which is almost tasteless allows flexibility. Our consumers enjoy mixing it with their favorite drink or food such as drinking water, coffee, fruit juice, or even their favorite meal. So, whether you're making a smoothie at home or grabbing coffee at your favorite café, 4Life Collagen provides flexibility with on-the-go, ready-to-mix powder packets.

---
Winner of Three Awards
4Life Transfer Factor Collagen won the 2020 Stevie Award in the People's Choice for Favorite New Product in the Skincare & Age-Defiance category. Also, 4Life was awarded the LUXlife Health, Beauty, & Wellness Award for Best Immune System Supplements in the United States and Best Health Supplements in Utah in 2019 and 2020.

---
Rigorous Testing For Safety and Quality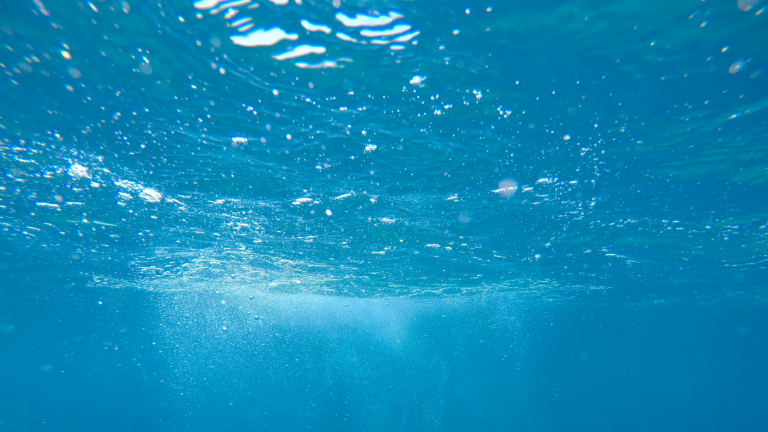 4Life regularly tests our raw materials and finished products to ensure their identity, strength, purity and composition. A portion of this testing involves determination of potential heavy metal contamination, which includes mercury and lead. The methodology for heavy metal testing follows USP <233> and utilizes inductively coupled plasma - mass spectrometry (ICP-MS) to detection of lead, cadmium, mercury and arsenic.

This testing is performed on every lot of TF Collagen and must meet 4Life's strict standards prior to release for availability to the end consumer. Per the instructions of use for TF Collagen, these standards meet or exceed all DRUG REGISTRATION GUIDANCE DOCUMENT, Third Edition, First Revision, July 2021, p. 160) for heavy metal contamination [l].

4Life is committed to providing the highest quality and safest products on the market and we stand behind the products we make.

---
---
References
Vetcika V and Vetvickova J. Antigen-specific immunomodulatory effects of transfer factor. Austin J Clin Pathol 2020;7(1): 1062

Gerth Lee, Verginia West, Tory Parker and David Vollmer. A multi-type collagen-based drink supplement significantly improved markers of aging, both in vitro and in a human clinical study. J Clin Exp Dermatol Res 2020; 11:531

New clinical study about benefits of 2.5g Naticol ® for skin beauty. (2017). Innovations in Food Technology, p 72-73

Drug Registration Guidance Document (DRGD), Third Edition, First Revision July 2021, p.160.