There's certainly a lot to love about this time of the year; gatherings with family, catch-ups with friends, tables filled with our family-favorite dishes and desserts with plenty of joy and laughter to go around.
To keep your body balanced and healthy, we have compiled some of our top products that will help support your well-being so you can immerse yourself and enjoy this season in its entirety.
Boost Your Immune System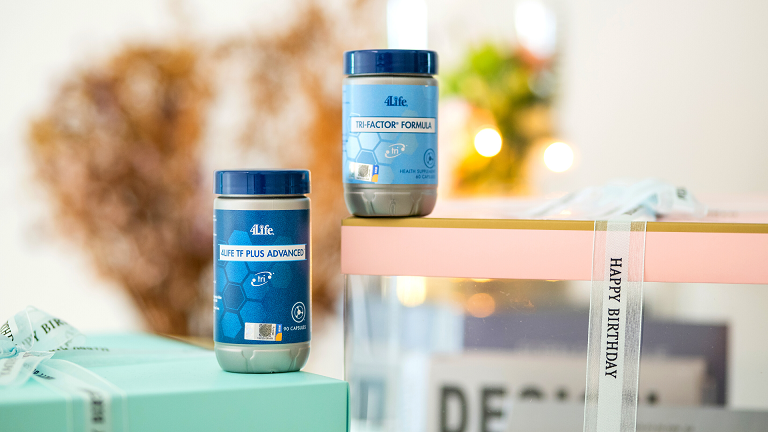 The holidays is one of the busiest time of year; vacation planning, travelling, family gatherings and meal preparations, gift shopping, company dinners and year-end parties, etc.
To ensure your body is well prepared for the tasks ahead, your immune system needs to be working at peak performance. And to help you with this, we recommend 4Life Tri-Factor Formula and 4Life TF Plus Advanced, our premium flagship immune system products with a track record of helping the immune system work smarter and faster.
That's why millions of people around the world have chosen to support their immune system with our flagship products!
Reveal Your Most Radiant Self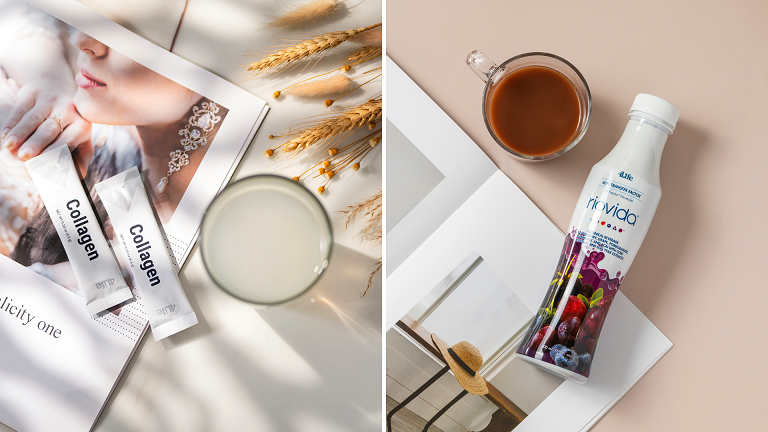 Say hello to beautiful dewy complexion and be the envy of everyone! 4Life RioVida Juice and Transfer Factor Collagen is the beauty boost your skin needs to be ready for the holidays.
4Life Transfer Factor Collagen contains Type 1 hydrolyzed fish collagen shown (in numerous clinical studies) to support better skin elasticity, moisture levels, skin tone, and skin repair. It's the answer to youthful skin and dewy complexion.
RioVida Juice is packed with antioxidant-rich superfruits that deeply hydrate and energize your body cells, keeping skin cells plump and vibrant for a glowing complexion.
Stay Energized and Positive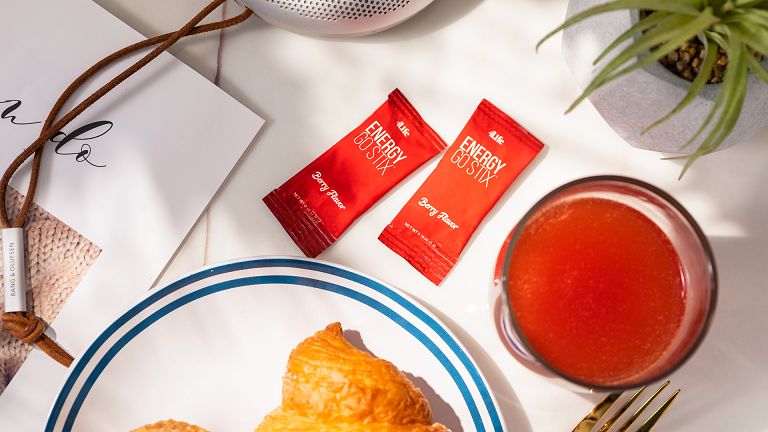 Don't we all know that the holidays can be fun and tiring at the same time. All that energy spent on doing all the activities. It's no wonder some people need a holiday after the holidays!
To stay energized and positive throughout the holidays, try Energy Go Stix! Made with energy-boosting ingredients such as guarana, green tea, yerba mate and amino acids, Energy Go Stix also elevates your mood to keep you motivated and positive.
Balanced and Healthy Digestion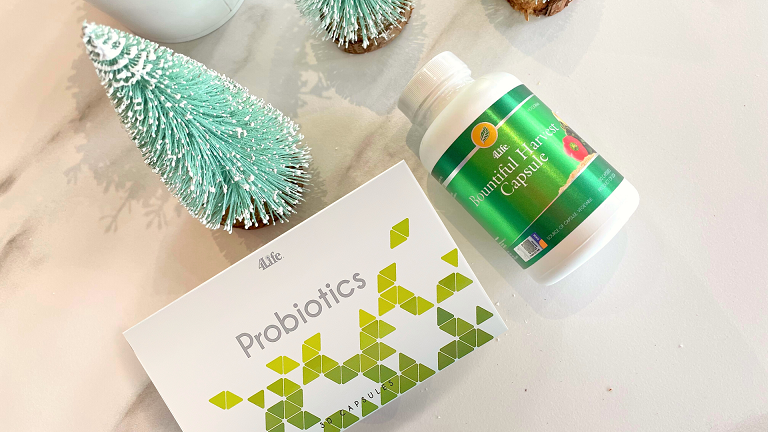 Keeping your digestive system in good health and in balance is crucial during this season especially if you plan to travel and go on a culinary adventure. Good digestion and nutrient absorption allow you to enjoy your festive meals while providing your body with essential nutrients to thrive.
4Life Bountiful Harvest is filled with nutrient-dense superfoods and whole foods that help fill-in the micronutrient deficiencies and gaps in our diet. This helps strengthen our body and improve our overall well-being.
4Life Probiotics help modulate your gut microbiome by populating it with good gut-friendly bacteria while keeping the bad bacteria in check. Healthier gut and digestion give you better sleep, mental clarity and more energy.
Cleanse and Reset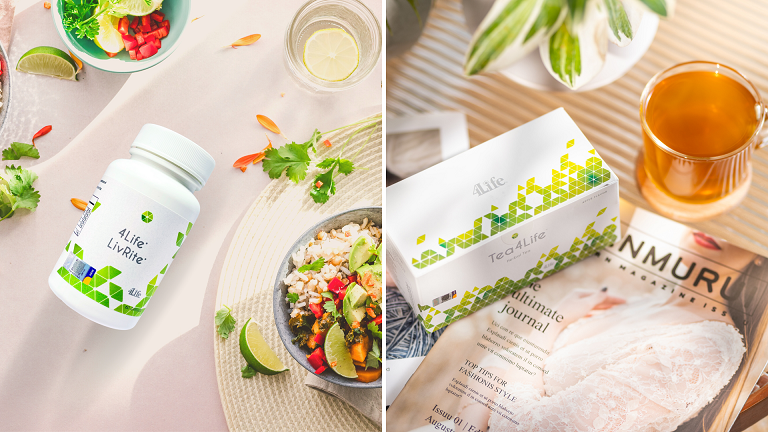 Late nights out, eating foods high in fat and sugar or overindulging in your favorite foods can easily throw our body out of balance. To reset your body systems and feel refreshed and renewed again, take 4Life LivRite and Probiotics.
4Life LivRite is a liver tonic that helps strengthen, regenerate and detoxify the liver. All the food we consume is processed and filtered by the liver. A healthy liver directly impacts your quality of life.
Tea4Life is a gentle daily cleansing tea made from 10 plant ingredients to help rid your body of toxins and support optimal gut health.
Get Into Shape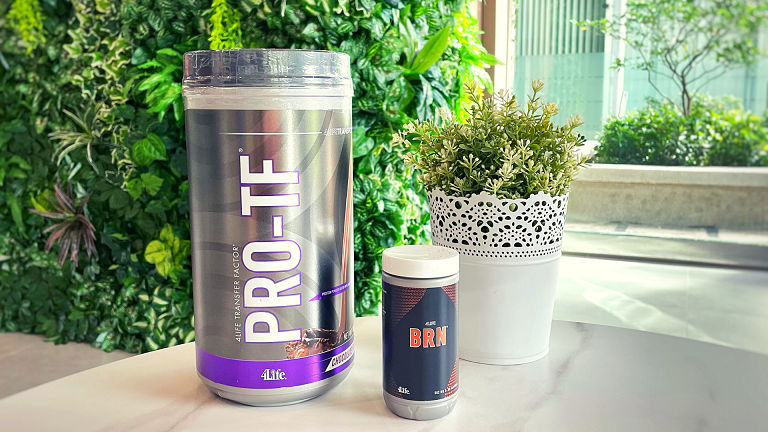 Need help getting into shape? Let 4Life BRN and Pro-TF rev up your metabolism to start your transformation. Now is the best time to be the best version of yourself!
4Life BRN ignites fat burning and reduces hunger to help you achieve a lean, sleek, and healthy body. Made with a thermogenic blend featuring bitter orange, coleus forskohlii, African mango, cayenne pepper and ginger, 4Life BRN is your go-to supplement for weight loss.
Pro-TF is our protein supplement made from whey and egg protein to help you transform your body. Pro-TF has been proven to support increased metabolism, lean muscle growth, fat loss and appetite control.

We hope you embrace this season to the fullest and wish you all very merry holidays!
---